This past June I decided to conquer our back porch/deck just in time for T.J.'s birthday on the 17th. Long story short, it was a ton of work… but with the help of friends, family and even T.J. himself – it was completed (just barely) on time! We never spent any time on our deck. Like ever. It was dirty and kinda gross… and truthfully, there was nothing to do out there! I was determined to change that. Since everyone seems to end up at our house for hangouts anyway, I figured summer was the perfect time to complete the makeover.
We started by power washing and sanding the deck. Followed by ripping off all of the gross BROWN! lattice that was currently on our deck. T.J. and I purchased thin (and cheap!) slats of wood that we cut to size and made into our very own slated "fencing". We were so proud of ourselves.
Die lattice, DIE!!!
Be the end of our first night the deck was washed and sanded. Our DIY slat walls were completed and had their first coat of white paint upon them. While T.J. was over at Jeff + Mike's, I secretly added four tall wooden posts and strung lights that I purchased at Target weeks prior! I was so excited to show T.J. the lights too. They looked dreamy through our back door curtain all night long.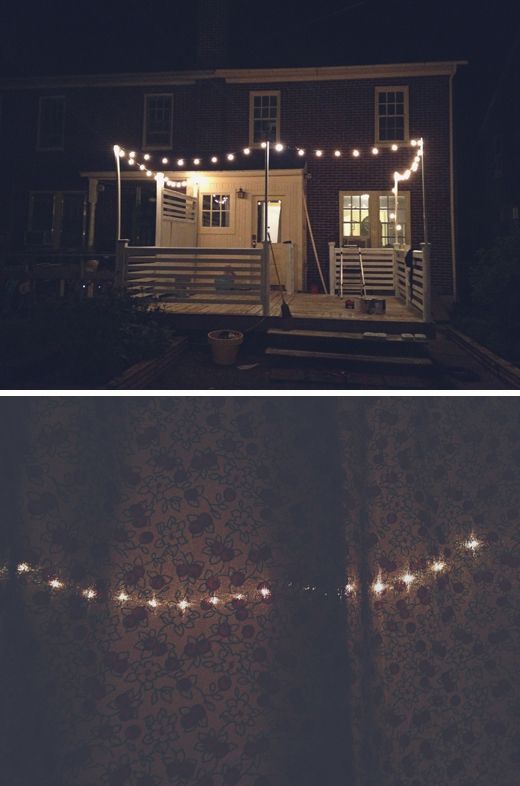 Once I decided upon a basic floor plan in my head, I set out to find the perfect pieces of furniture to make our deck feel cozy and inviting. I found an beautiful wooden round coffee table at a local auction and had to have it! Thankfully I won the bid at $30. It was perfect for my plans. I picked up a fantastic handmade pillow that said "Good Luck" on it (for $12) at a local antique warehouse and used it as my color palette foundation. Pinks, yellows, mints and of course, black and white. I found two matching, yet terribly ugly, chairs (for $3.00 each) at a thrift store that I knew would work for one side of the table. I sprayed those suckers gold and recovered the seat cushions with a bold IKEA fabric.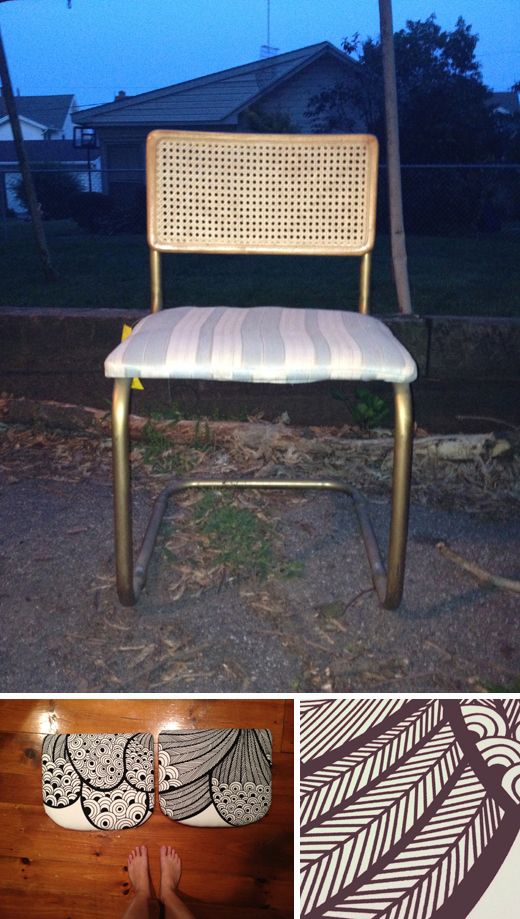 My favorite part of the makeover was the shipping palette couch I built all by myself. Four palettes ($13 total) plus one crib mattress ($6.00) covered in Ikea fabric ($7.99) made for a totally unique and custom couch to fill one end of the deck. You should have seen my mom and I, in what felt like the middle of the night, trying to figure out how to cover that crib mattress. We can both sew a straight line and basic items… but for some reason this crib-covering task was really hard. Ha!
My other favorite part of this makeover was that T.J. didn't get to see any of the things I'd been purchasing, painting and creating until the big reveal just before his party. His main birthday gift from me (and his oldest sister) was a brand new grill. He loved it! And the style of the deck. It made his party so memorable.
I love the graphicness of the white slatted sides. It's really modern compared to our 1929 brick house!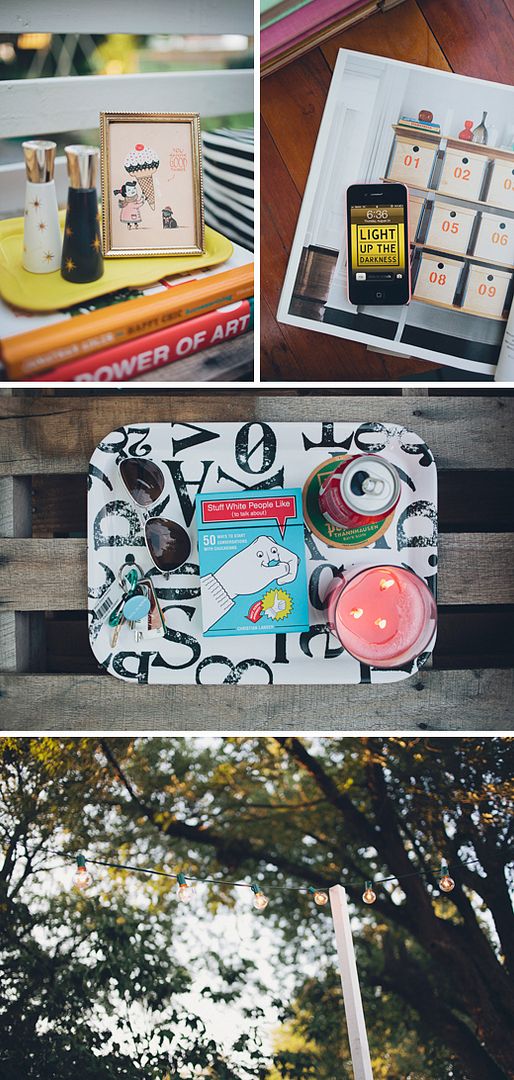 I gathered all sorts of magazines, books and candles to fill the extra end of the couch and coffee table.

I even got to use my Stones + Washi Tic-Tac-Toe DIY!!
The new grill is amazing. We used it a LOT this past season. Really made those warm evenings feel like summer time.

I'd been hoarding this old wooden ladder in our garage for months without any use for it… until this project! I found it one day while out on a run and carried it back with me (Papa Mousetis style) and it was the perfect addition to the deck. It held magazines and blankets — which are two perfect summer night ingredients in my book.

Fresh dahlias from a local farmer's market, along with my all-time-favorite brass unicorn, were the perfect table toppers for my wooden coffee table. I also snagged several vintage beer coasters that have such beautiful typography on them I just couldn't pass 'em up!

I did a bad job at trying to take the "same photos" for before and after shots… but here are a few I can match up! Also, you can see a few images from T.J.'s actual party here!
Hope ya like what we did with the place! Now I must go check the banana bread that seems to be burning in my oven right now. Enjoy!
xx
For my Grandpa's 90th birthday celebration, which took place two weeks ago, I created the centerpieces out of random jars, bottles and jugs found at local thrift stores. (Thank you Jubilee and Divine Consign!) As you can see below I set out all the jars on a paint cloth. I then spray painted everything white – but it got dark super fast so I wasn't able to take any photos of that process. It took several coats of the white paint, from all sorts of angles, to cover everything evenly!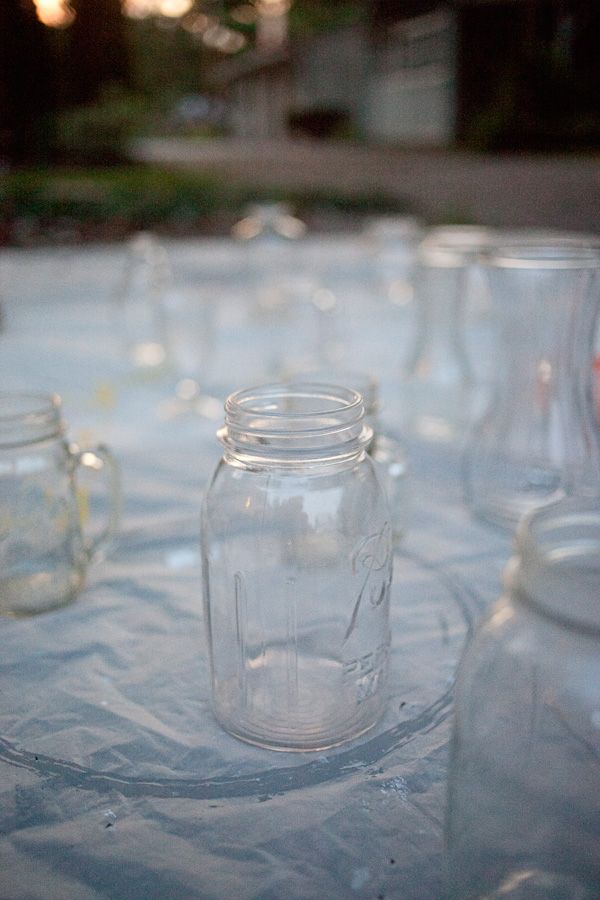 The morning of the birthday party, my Mom and I picked buuuuuuckets of flowers from her yard and wildflower patch. We then put together all the jars and flowers in their basement on the ping pong table.
Then, hours later, with the jars hung, the table set and the music turned up – this was the result! I was so pleased with how everything turned out. Worth every minute I spent working on the party.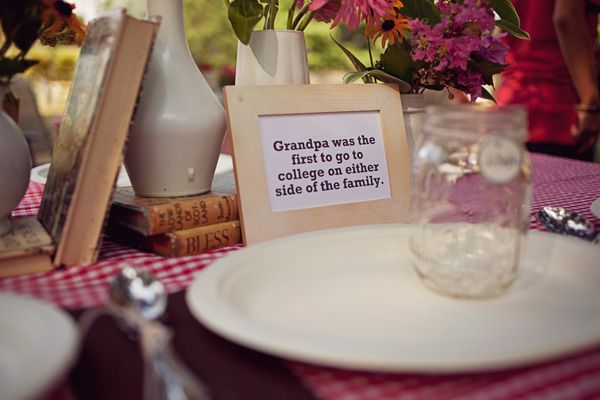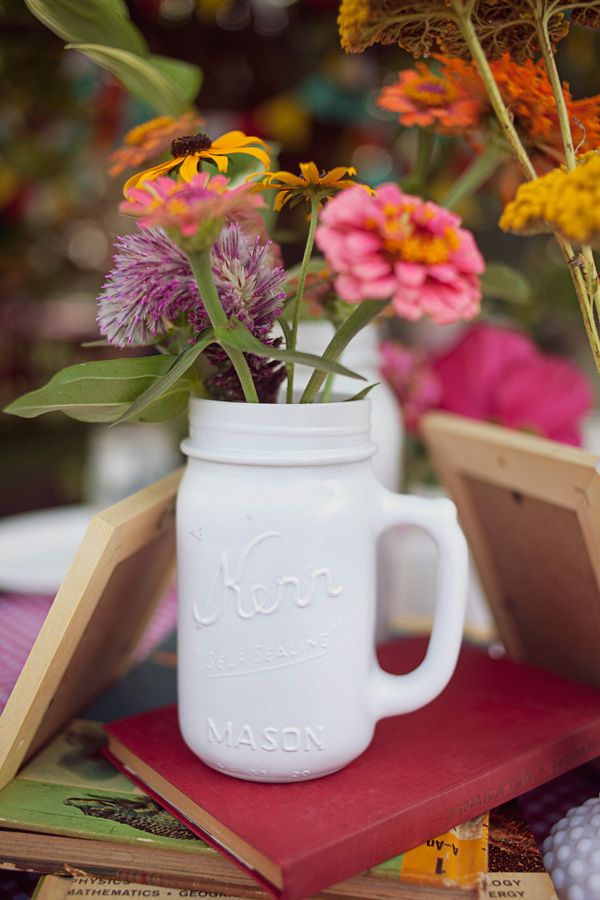 I mentioned in Friday's post that T.J. spent most of last week painting our upstairs hallway. It was originally a weird tan color on the wall with an even stranger yellow-smoke color on the trim. Truly awful.
T.J. started by painting the ceiling with a fresh coat of white paint – and what a difference that alone made! He then taped off all of the trim and painted the walls a nice eggshell white. Once the walls were dry with two coats of paint, he taped off the walls and we started on the trim together. We did both coats of the trim late on Friday night. It looks so much better. And happier!
I had thought about painting the hallway a color, but it's very narrow and doesn't have any direct light, so I stuck with white to make it feel bigger and a little brighter.
Can you see a difference? Ha!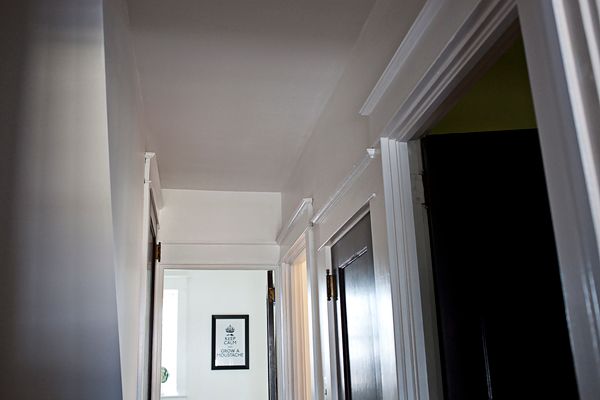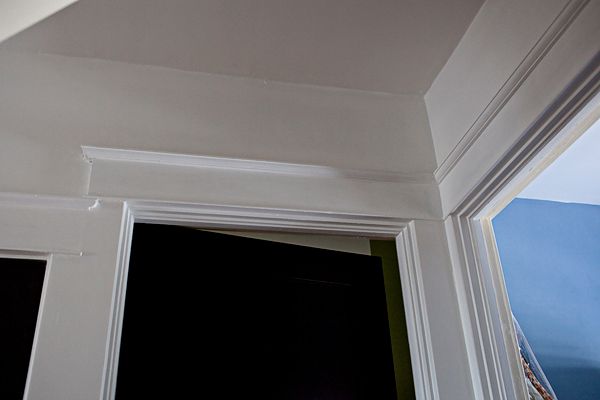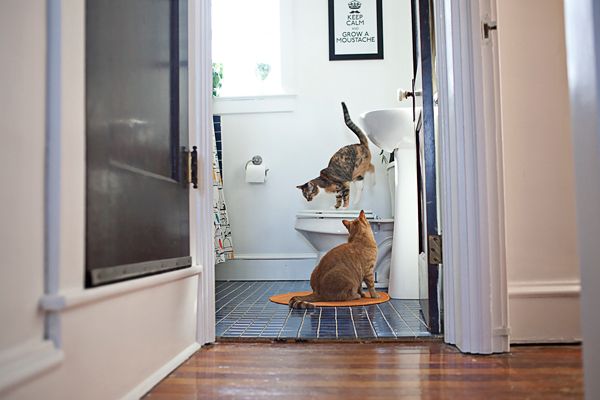 Hooray for white paint!!